JuiceMaxx Antioxidant Booster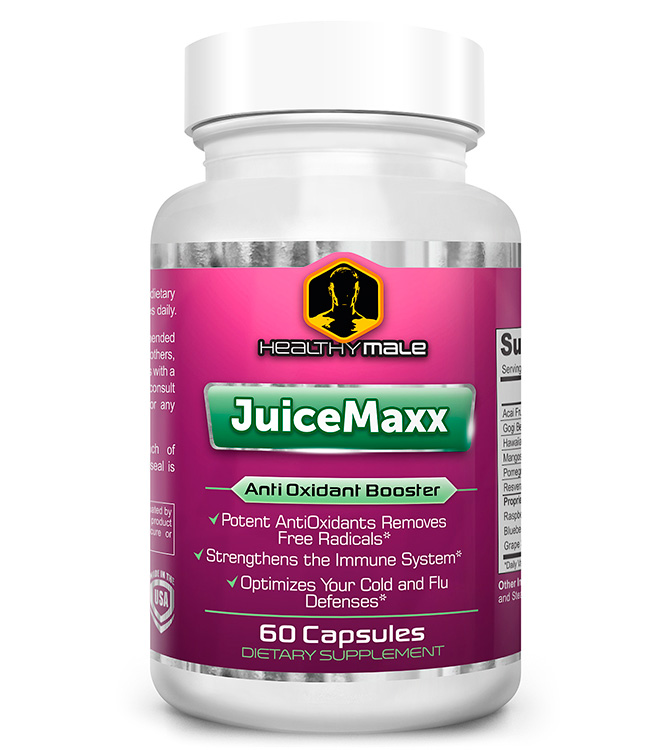 In-Stock
Strengthen Heart & Immune System
Quantity
JuiceMaxx: Antioxidant Power
Antioxidants even have many great health benefits when taken from the foods we eat every day. Below is a little more in-depth information about how beneficial antioxidants are to you and your health.
Benefits of Antioxidants
Antioxidants are powerful things which are derived from some foods like fruits and vegetables. There are different antioxidants that help different parts of the body, and the nature around us or the foods we eat.
Antioxidants and Free Radicals
Antioxidants do something that is quite extraordinary in our bodies without us even realizing it. Within our bodies, something called free radicals is naturally produced. Free radicals run around seemingly bullying the different parts of the body, which medically can cause sickness or disease. Free radicals are destructive within the cells of our body, causing them to become unstable and cause a domino effect in our cells. Even healthy cells can become unstable in this way. Luckily, our bodies produce antioxidants as well, which target the free radicals in a never-ending battle for the cells in our body.
Unfortunately, most of the antioxidants in our bodies are outnumbered by a heavy amount of free radicals. Since this is common for many people, it becomes important to add to the antioxidants in our bodies, which is where food comes into play. With many external sources to boost antioxidants, our bodies can be benefitted by the neutralization of free radicals in the bloodstream. While the studies are continuing to find the best way to harness the power of antioxidants in supplement form, we can enjoy a variety of foods that have all the antioxidants we need.
JuiceMaxx Antioxidant Immune System Booster. Featuring Acai, Gogi Berry, Resveratrol, Hawaiian Noni Berry, and Pomegranate. Potent AntiOxidants Removes Free Radicals. May strengthen the Immune System. May maintain Respiratory Function.
Enjoy all the benefits of your daily fruit intake in a two-capsule serving with JuiceMaxx. Formulated to provide you with a number of antioxidants equal to roughly four servings of fruit daily.
All Natural Ingredients
Acai Fruit (4:1 extract) 300 mg
Goji Berry 40% Extract
(Lycium barbarum) (fruit) 300 mg
Noni 4:1 extract (fruit) 300 mg
Mangosteen Extract (fruit) 250 mg
Pomegranate (40% extract) 250 mg
trans-Resveratrol (from Polygonum cuspidatum extract) (root) 20 mg

Proprietary Blend
Consisting of: Raspberry Fruit Powder, Black Cherry Fruit Powder, Blueberry Fruit Powder, Elderberry 5% Extract (Sambucus nigra), and Grape Skin 30% Extract (skin and pulp).
JuiceMaxx Antioxidant Immune System Booster
Healthymale Video
Ultimate lifestyle products for optimal male health.
---