Male Supplements
Get Cutting Edge Herbal Supplements for Men
Men 30 to 90+ Do You Want to Obtain Optimal Health? Now You Can Get the Highest Strength and Quality Supplements Online With No Prescription Needed. Treatments for Weight Loss, Libido, Energy, Muscle, Vision, Prostate, Joint and More Shipped Direct to You.
How to Use Chondroitin and Glucosamine to effectively treat Osteoarthritis
If you've ever had back aches and chronic joint pain, your doctor may have diagnosed you as having osteoarthritis. This can be a painful and debilitating type of arthritis that affects the bones and can cause joint pain and stiffness, as well as back pain and tight joints.
What is Osteoarthritis?
Osteoarthritis or OA, is a degenerative bone disease that can cause bone spurs and eroded cartilage. Common drug treatments can include various types of pain relievers and anti-inflammatories, as well as physical therapy, rehabilitation, surgery, ultrasound and topical ointments as pain relievers.
Natural and herbal remedies may help but you need to speak to your doctor about any potential side effects depending on your medical history and any pre-existing medical conditions. A natural remedy that people have taken for years is Glucosamine Chondroitin Sulfate or separately, Chondroitin and Glucosamine to treat osteoarthritis.
What are Chondroitin and Glucosamine?
Chondroitin is an herbal supplement. It's found in the cartilage of sharks, cows and pigs. It's commonly sold over the counter as Chondroitin Sulfate and it's an anti-inflammatory that's used to help rebuild cartilage and treat osteoarthritis. Chondroitin Sulfate may help reduce stiffness but results may vary.
Glucosamine on the other hand, is a compound that's harvested from shellfish. It's used to treat arthritis and has anti-inflammatory properties. Glucosamine supplements may be taken to help with knee and back pain with varying results.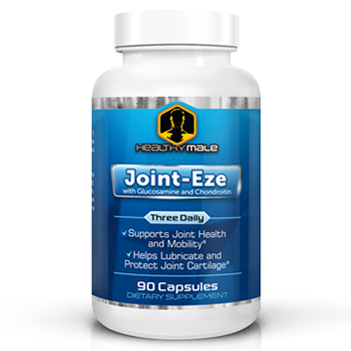 Dosage Strength and Brand
There have been several studies that have found the results for both drugs have helped to reduce osteoarthritis pain. As it relates to dosage strength, this can vary depending on the size bottle and the type of product you purchase. For standard use without pre-existing medical conditions, please refer to your physician or your pharmacist to advise you on which versions they believe will offer you the best results.
Whether you're thinking about Chondroitin Sulfate or Glucosamine, or the version considered Glucosamine Chondroitin Sulfate, consult a physician before use to ensure you have no adverse side effect and you can have these supplements as they may not be appropriate for people with diabetes or kidney disorders.
---
About the Author:
Mark Delano is the Managing Editor and handles all day to day operations for HealthyMale.com. He is a personal fitness trainer, nutritionist and avid mountain biker who also enjoys exploring the trails of Arizona. Besides his everyday duties at HealthyMale, Mark is also a guest columnist for several blogs related to men's health.
Click to see more articles from Mark