PowerLaxx Herbal Laxative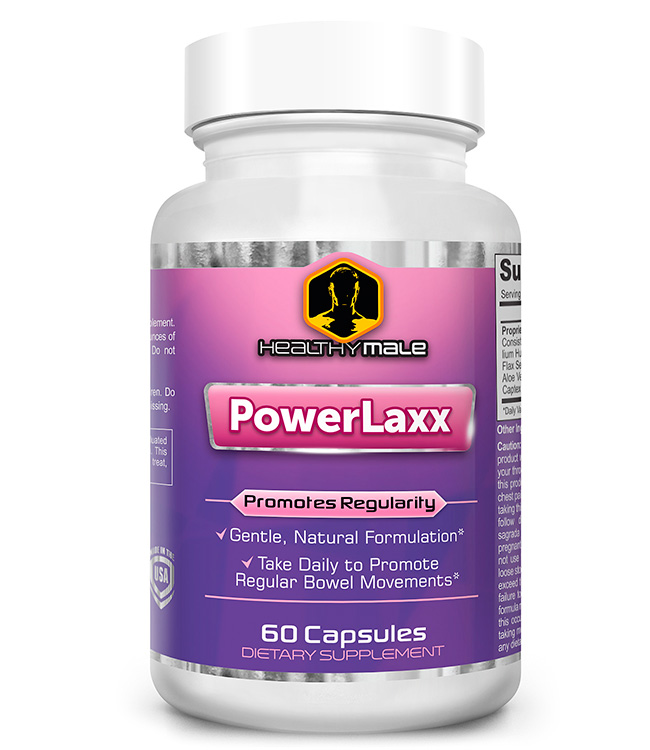 Out-of-stock
Relieve Constipation Herbal Laxative
Quantity
Currently out of stock, more arriving soon!
PowerLaxx: Laxative Support
Its a condition that accounts for millions of unnecessary doctors visits every year, and it affects everybody from time to time. It can cause pain and discomfort intense enough to hinder your professional life, affect your appetite, and interfere with your leisure activities. For some, it can even become a chronic ailment with long-term implications that can severely restrict our day-to-day activities. Were talking about constipation.
Constipation is associated with a wide array of medical conditions including irritable bowel syndrome (IBS), Crohns disease, ulcerative colitis, and other digestive disorders. It can be triggered by a range of factors including diet and exacerbated by stress. For the fourteen percent of sufferers living with chronic constipation, secondary problems including unwanted weight gain and GI complications are not uncommon.
Finding relief can pose a challenge. One commonly recommended strategy involves introducing more fiber into the diet and staying properly hydrated, and although this can help alleviate the symptoms of constipation, it can also come with side effects of its own, including diarrhea, intestinal pain, gas, and cramping. The need to run to the bathroom with a little warning can also pose obvious problems in the workplace or any other environment where it isnt feasible to get up and leave on short notice. On the other hand, over-the-counter medications can be a hit-or-miss solution, and they too can invite an entourage of unwanted side effects. Stronger prescription medications arent always readily available, and prolonged use has the potential to cause further complication down the road.
Those who are interested in exploring a natural alternative will be happy to discover PowerLaxx: a special proprietary blend of holistic ingredients to help encourage regular bowel movements without causing the side effects associated with prescription and OTC laxatives.
How Does PowerLaxx Work?
The key ingredient in PowerLaxx is the Alexandrian senna, a plant found in countries such as Egypt, Sudan, and India. A member of the legume family, the laxative properties of Alexandrian senna have been used medicinally for centuries and has even appeared in modern laxative preparations as recently as the 1950s.
Senna is a very safe substance with minimal side effects. Individuals suffering from a rare allergy towards anthraquinones may have issues with Senna. Senna is also not useful for individuals suffering from serious GI diseases like Crohns Disease, Ulcerative Colitis or any abdominal blockage. The only minor side effects in healthy individuals are restricted to slight cramps in the abdomen, diarrhea, nausea or vomiting.
PowerLaxx contains senna leaf extracts with a potency of 6% of sennosides and fortified with psyllium husks, cascara segrada, and flaxseed, making it gentle but effective.
PowerLaxx All Natural Herbal Laxative Supplement. PowerLaxx may help ease your symptoms naturally L. Acidophilus is important to a healthy digestive system. If you suffer from chronic or intermittent constipation, consider introducing PowerLaxx into your daily regimen. This proprietary blend of herbs may help to increase the frequency of your bowel movements, it may also maintain gut health, relieve pain associated with inflammation, and stimulate your body to expel waste without the aid of harsh pharmaceuticals. Particularly for those suffering from chronic constipation, relief from symptoms means improved quality of life all around.
All Natural Ingredients
Senna Leaf (20% Extract) 285 mg
Cascara Sagrada Bark (10% Extract) 300 mg
Psyllium Husk Powder 300 mg
Flaxseed Powder 100 mg
Aloe Vera Gel (Powder / 200:1 Concentrate) (leaf) 80 mg
Lactobacillus acidophilus 50 mg
Licorice Root (10% extract) 50 mg
Medium Chain Triglycerides Oil 14 mg
PowerLaxx All Natural Herbal Laxative Supplement
Healthymale Video
Ultimate lifestyle products for optimal male health.
---