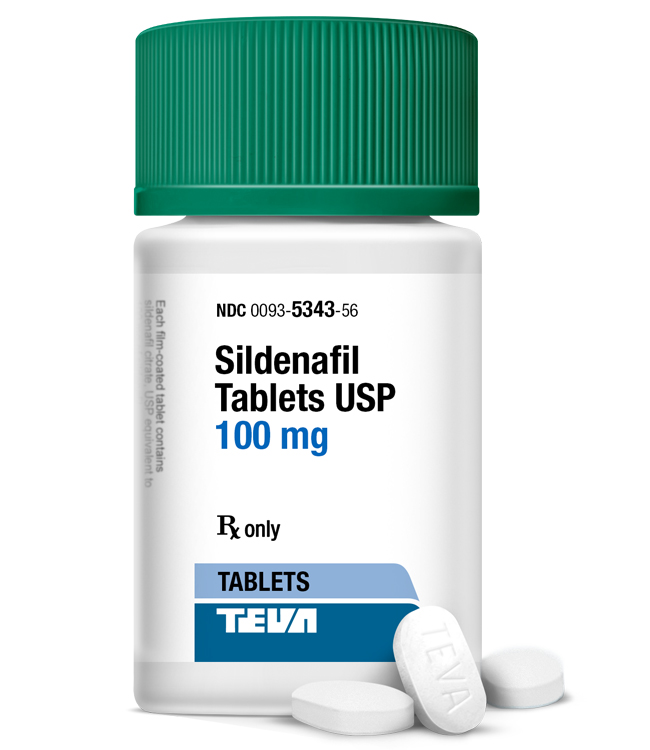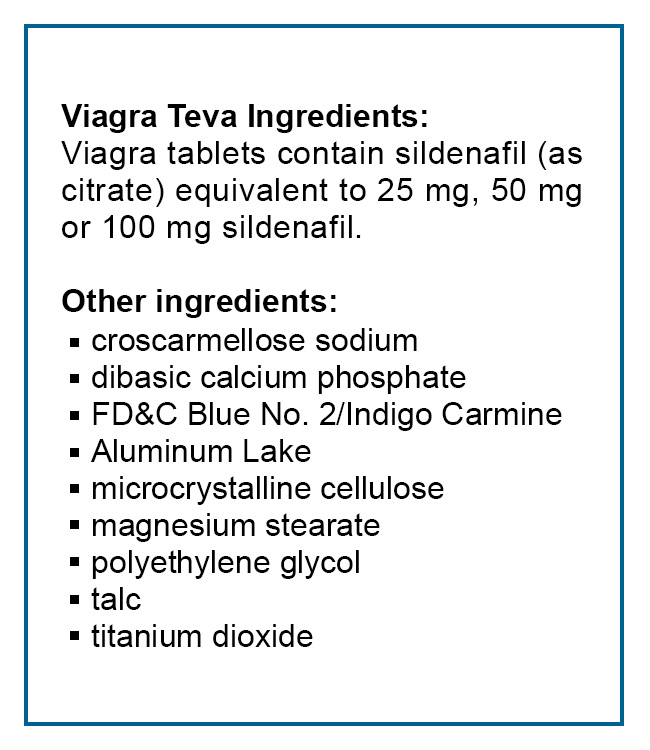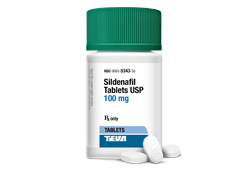 In-Stock
Teva Sildenafil Citrate Erectile Dysfunction Medication
100mg pill = 4 doses | 50mg = 2 dose
Attention! All New Customers
receive a *Free Pill Splitter* with your order.
Quantity
Teva Sildenafil Citrate is an FDA-approved generic form of Viagra. Viagra continues as the most popular treatment for erectile dysfunction. Pfizer approved Sildenafil Citrate, which heralds medical products that promote responsibility and transparency. The drug has helped millions of men gain an erection effortlessly, with the pill working in just minutes in most scenarios.
If you are interested in trying Sildenafil Citrate to improve your sexual experiences, you will be glad to know that the medication is highly accessible and even affordable.
How Should Teva Sildenafil Citrate Be Taken?
Teva Generic Viagra should be prescribed by a doctor. This will ensure that the active ingredient in the medication will alleviate the issues you are experiencing, mitigating any adverse side effects. Your doctor will give you a prescription for directions as to how it should be taken for the best results.
Teva Generic Viagra must be taken at least an hour before sexual activity will be expected. Consume Viagra with water to ensure that any acids and fats do not interact with the pill for the best results. If you feel that you have overdosed by accident, seek emergency medical treatment immediately. Blurry vision, headaches, an irregular heartbeat are symptoms of an overdose.
How Teva Sildenafil Citrate Works
Teva Sildenafil Citrate works as a PDE5 inhibitor. PDEF5 interacts with cGMP-specific phosphodiesterase type 5 on cyclic GMP in the smooth muscle cells in the penis. It will then relax the muscles, allowing better blood flow to help properly dilate the shaft. Once the medication into the bloodstream, it spreads directly to your circulatory system and into the bloodstream, targeting and disabling the PDEF5 enzyme. Once disabled, blood flow is relaxed, and the penis can achieve erection upon sexual stimuli. It is a well-documented phenomenon, with Sildenafil Citrate beneficial in most scenarios.
Sildenafil Citrate As a Treatment for Impotence
Approved by the FDA and Pfizer, Sildenafil Citrate can also be used for those who are experiencing impotence. Viagra was introduced in 1998, and this medical treatment was the first of its kind that was publicly available to consumers. To this day, the generic form of Viagra is a popular medication that is used by millions of men. Clinical studies have repeated its effectiveness, galvanizing its popularity and usage. Fast-acting and long-lasting, the drug works well with minimal side effects associated with the medication.
Why is Sildenafil Citrate So Popular?
Numerous studies have monitored the results of generic Viagra. Results repeatedly show that it is effective in up to 80% of men, with a stamp of approval from the FDA and other institutions recommending its usage. Due to its history and testing, it is also covered by most health insurance plans. It makes for a medication that is affordable and accessible.
Issues Resulting from Sildenafil Citrate Usage
Even though Teva Sildenafil Citrate is well tolerated and is deemed safe, there are some cases where they can be adverse reactions. Side effects include rashes, blurry vision, and flushing the skin. Some may have rare side effect that includes hearing loss and erections lasting for several hours post-coitus. If any of these side effects are apparent, you must seek medical attention as soon as possible. Even though it is a pill and is administered easily, you need to follow the recommendations and prescriptions enacted by your doctor to avoid any side effects.
Why purchase from HealthyMale?
There are several benefits of ordering from this online pharmacy. HealthyMale offers significant discounts on popular medications like Sildenafil Citrate. You will also receive a medical consultation for every order done via HealthyMale.
Online orders underlined the importance of your privacy, with our secure online ordering process securing information via encryption. Orders are processed efficiently, and speedy service is guaranteed, helping you avoid a trip to your pharmacist. Orders are typically shipped within 24 hours after purchase. HealthyMale also carries the only legally viable form of generic Viagra manufactured by Teva.
Purchase Sildenafil Citrate from HealthyMale.com
Male impotence is a complex, sometimes even embarrassing ailment that can cost you your confidence. If you have impotence, you should consider acquiring Sildenafil Citrate to alleviate symptoms. Generic Viagra from HealthyMale is authentic, thoroughly tested, and is manufactured within the United States. We are approved by the FDA as licensed distributors, with HealthyMale being HIPPA-compliant. We value security and privacy, continuously making efforts to improve our culture of transparency and ethics. Serving over 1 Million customers since 1999, HealthyMale has positioned itself as the go-to online pharmacy for Sildenafil Citrate and other medical devices and medications.
Ordering from HealthyMale is straightforward. You can still purchase generic Viagra without an effective prescription without using our free medical consultation. A doctor will review our questionnaire and consultation, determining if you are a good fit for Sildenafil Citrate. Once approved, your order will be recorded. An FDA-licensed pharmacy would then pick it up within the United States. This offers a layer of security and privacy when placing online orders, with the ability to acquire your order medication directly from a local pharmacy. We can also deliver medicine directly to you if needed.
Proper Way to Take Teva Sildenafil Citrate
The dosage for Teva Sildenafil Citrate will typically be 25, 50, or 100 mg. The starting dose would typically be in the lower range of 50 mg. This will ensure that your body becomes accustomed to the active ingredient in the medication. Depending on the patient and the issues that need to be alleviated, dosages may increase or decrease over time.
More than one dosage of Viagra within a 24-hour window is dangerous and should not be done. If you take more than one pill within that time frame, you should seek medical attention to ensure that there are no dangers of overdosing. You should avoid eating high in fat meals before administering Sildenafil Citrate. Foods with very high-fat content can reduce the effectiveness of the active ingredient.
Sildenafil Citrate is tested with other drugs and should not be mixed with other forms of medication. If you take some daily medication or vitamin, then ask your doctor how it can react with Sildenafil Citrate or how it affects your body chemistry. It is also important to note that Sildenafil Citrate does not protect against STDs or pregnancy. Additional medication or devices will have to be used to prevent these health issues.
Sildenafil Citrate In Combination with Other Medications
Sildenafil Citrate should not be taken with other forms of medication. For example, when mixed with Sildenafil Citrate, nitric oxide can have particularly adverse side effects. Nitroglycerin, nitroprusside, can also interact with Sildenafil Citrate. You must contact your doctor if you think that your daily medications or vitamins will be altered shortly.
Precautions for Sildenafil Citrate
you must consult your doctor before purchasing Viagra or its derivatives. Sildenafil Citrate may be detrimental to some patients, especially if they are kidney issues, blood pressure issues, or if a particular medication is required, that will complicate the interactions of Sildenafil Citrate.
How to purchase Teva Sildenafil Citrate from HealthyMale.com?
HealthyMale standards are quality and top-notch in the online pharmacy community. To order from us, choose your quantity, dosage, and the type of pill that is needed. Add it to your shopping carts and insert the information that is on your prescription. Once approved, you can go ahead and order. Your credit card will be charged shortly, and you will receive a confirmation email. A US-based pharmacist will fill your prescription, with the medication being available for pickup at your local pharmacy. Any drug that is sent to your home will be properly packaged in a discreet box. Fast, secure, convenient, and transparency is the cornerstone of HealthyMale.com.
What Is Erectile Dysfunction?
Erectile dysfunction is the inability to obtain and sustain an erection for any given amount of time, where the poor performance starts to affect your sexual, physical, and emotional life. Erectile dysfunction can also indicate poor emotional health within a relationship.
Sildenafil Citrate works by allowing your body to overcome these factors, providing a drastically improved sex life. There are several causes of erectile dysfunction, including illness, inadequate blood flow to the penis to sustain its rigidity, the habitual consumption of alcohol, and other suppressants.
Interestingly enough, Sildenafil Citrate can also help in other areas of your life, including premature ejaculation or lack of interest in sharing a sexual experience with your partner. Not only can rectifying erectile dysfunction help you feel more confident in yourself, but it will make your life easier and allow you to be more confident with your partner and any person that you share sex with.
What Causes of Erectile Dysfunction?
Even though many think that it is a relatively straightforward process, sexual arousal for men is quite complicated. It involves hormones that trigger a physical reaction, with emotions, blood vessels, and the brain all having a part in the process. If a problem with any of these organs and physiological reactions occur, then a problem with erections may develop.
As you get older, erections will naturally take longer to form and may not be as firm. You may need direct touch for an erection to occur, with emotions and visual aids not being enough. Several risk factors can also contribute to bouts of erectile dysfunction.
These factors include medical conditions like diabetes that dilate blood vessels, the use of tobacco that can restrict blood flow to the arteries and veins, being overweight, radiation treatment, certain antidepressants, and antihistamines designed to treat high blood pressure and anxiety to perform well. Common causes include:
Heart problems
Alcoholism
High cholesterol
Clogged blood vessels
Poor communication in your relationship
First synthesized by a group of chemists in a research facility in England, Sildenafil Citrate was first used to observe its reaction with hypertension and angina pectoris, a form of ischemic heart disease. It was found that the active ingredient had minimal impact on angina, but it had induced erectile erections in test subjects. Instead of marketing it as a medication to help alleviate heart problems, Pfizers Sandwich decided to market it to help aid with erectile dysfunction.
The drug was patented in 1996 and approved for erectile dysfunction by the FDA in March 1998. It was the first oral treatment approved for erectile dysfunction at its time. At its peak, the annual sales of Sildenafil Citrate topped at $1.934 billion.
Important Patient Information
SILDENAFIL (ERECTILE DYSFUNCTION) - ORAL (sil-DEN-a-fil) COMMON BRAND NAME(S): Viagra
IMPORTANT: HOW TO USE THIS INFORMATION: This is a summary and does NOT have all possible information about this product. This information does not assure that this product is safe, effective, or appropriate for you. This information is not individual medical advice and does not substitute for the advice of your health care professional. Always ask your health care professional for complete information about this product and your specific health needs.
USES: Sildenafil is used to treat male sexual function problems (impotence or erectile dysfunction-ED). In combination with sexual stimulation, sildenafil works by increasing blood flow to the penis to help a man get and keep an erection. This drug does not protect against sexually transmitted diseases (such as HIV, hepatitis B, gonorrhea, syphilis). Practice "safe sex" such as using latex condoms. Consult your doctor or pharmacist for more details.
HOW TO USE: Read the Patient Information Leaflet provided by your pharmacist before you start taking sildenafil and each time you get a refill. If you have any questions, ask your doctor or pharmacist. To treat erectile dysfunction-ED, take this drug by mouth as directed by your doctor, usually as needed. Take sildenafil at least 30 minutes, but no more than 4 hours, before sexual activity (1 hour before is the most effective). Do not take more than once daily. A high-fat meal may delay how quickly the drug begins to work. The dosage is based on your medical condition, response to treatment, and other medications you may be taking. Be sure to tell your doctor and pharmacist about all the products you use (including prescription drugs, nonprescription drugs, and herbal products). Tell your doctor if your condition does not improve.
SIDE EFFECTS: Dizziness, headache, flushing, or stomach upset may occur. Vision changes such as increased sensitivity to light, blurred vision, or trouble telling blue and green colors apart may also occur. If any of these effects last or get worse, tell your doctor or pharmacist promptly. To reduce the risk of dizziness and lightheadedness, get up slowly when rising from a sitting or lying position. Remember that this medication has been prescribed because your doctor has judged that the benefit to you is greater than the risk of side effects. Many people using this medication do not have serious side effects. Sexual activity may put extra strain on your heart, especially if you have heart problems. If you have heart problems and experience any of these serious side effects while having sex, stop and get medical help right away: severe dizziness, fainting, chest/jaw/left arm pain, nausea. Rarely, sudden decreased vision, including permanent blindness, in one or both eyes (NAION) may occur. If this serious problem occurs, stop taking sildenafil and get medical help right away. You have a slightly greater chance of developing NAION if you have heart disease, diabetes, high cholesterol, certain other eye problems ("crowded disk"), high blood pressure, if you are over 50, or if you smoke. Rarely, a sudden decrease or loss of hearing, sometimes with ringing in the ears and dizziness, may occur. Stop taking sildenafil and get medical help right away if these effects occur. In the rare event you have a painful or prolonged erection lasting 4 or more hours, stop using this drug and get medical help right away, or permanent problems could occur. A very serious allergic reaction to this drug is rare. However, get medical help right away if you notice any symptoms of a serious allergic reaction, including: rash, itching/swelling (especially of the face/tongue/throat), severe dizziness, trouble breathing. This is not a complete list of possible side effects. If you notice other effects not listed above, contact your doctor or pharmacist. In the US - Call your doctor for medical advice about side effects. You may report side effects to FDA at 1-800-FDA-1088 or at www.fda.gov/medwatch. In Canada - Call your doctor for medical advice about side effects. You may report side effects to Health Canada at 1-866-234-2345.
PRECAUTIONS: Before taking sildenafil, tell your doctor or pharmacist if you are allergic to it; or if you have any other allergies. This product may contain inactive ingredients, which can cause allergic reactions or other problems. Talk to your pharmacist for more details. Before using this medication, tell your doctor or pharmacist your medical history, especially of: heart problems (such as heart attack or life-threatening irregular heartbeat in the past 6 months, chest pain/angina, heart failure), stroke in the past 6 months, kidney disease, liver disease, high or low blood pressure, dehydration, penis conditions (such as angulation, fibrosis/scarring, Peyronie's disease), history of painful/prolonged erection (priapism), conditions that may increase the risk of priapism (such as sickle cell anemia, leukemia, multiple myeloma), eye problems (such as retinitis pigmentosa, sudden decreased vision, NAION). This drug may make you dizzy or cause vision problems. Alcohol or marijuana (cannabis) can make you more dizzy. Do not drive, use machinery, or do anything that needs alertness or clear vision until you can do it safely. Limit alcoholic beverages. Talk to your doctor if you are using marijuana (cannabis). Before having surgery, tell your doctor or dentist about all the products you use (including prescription drugs, nonprescription drugs, and herbal products). During pregnancy, sildenafil should be used only when clearly needed. Since high blood pressure in the lungs is a serious condition that can harm both a pregnant woman and her unborn baby, do not stop this medication unless directed by your doctor. If you are planning pregnancy, become pregnant, or think you may be pregnant, talk to your doctor about the benefits and risks of using sildenafil. This medication passes into breast milk in small amounts. Consult your doctor before breast-feeding.
DRUG INTERACTIONS: Drug interactions may change how your medications work or increase your risk for serious side effects. This document does not contain all possible drug interactions. Keep a list of all the products you use (including prescription/nonprescription drugs and herbal products) and share it with your doctor and pharmacist. Do not start, stop, or change the dosage of any medicines without your doctor's approval. A product that may interact with this drug is: riociguat. Sildenafil can cause a serious drop in your blood pressure when used with nitrates. A serious drop in blood pressure can lead to dizziness, fainting, and rarely heart attack or stroke. Do not use sildenafil with any of the following: certain drugs used to treat chest pain/angina (nitrates such as nitroglycerin, isosorbide), recreational drugs called "poppers" containing amyl nitrate, amyl nitrite, or butyl nitrite. If you are also taking an alpha blocker medication (such as doxazosin, tamsulosin) to treat an enlarged prostate/BPH or high blood pressure, your blood pressure may get too low which can lead to dizziness or fainting. Your doctor may start treatment with a lower dose of sildenafil to minimize your risk of low blood pressure. Other medications can affect the removal of sildenafil from your body, which may affect how sildenafil works. Examples include azole antifungals (such as itraconazole, ketoconazole), macrolide antibiotics (such as clarithromycin, erythromycin), HIV protease inhibitors (such as ritonavir, saquinavir), mifepristone, rifampin, among others. Do not take this medication with any other product that contains sildenafil or other similar medications for erectile dysfunction-ED or pulmonary hypertension (such as tadalafil, vardenafil).
OVERDOSE: If someone has overdosed and has serious symptoms such as passing out or trouble breathing, call 911. Otherwise, call a poison control center right away. US residents can call their local poison control center at 1-800-222-1222. Canada residents can call a provincial poison control center. Symptoms of overdose may include severe dizziness, fainting, painful/prolonged erection.
MISSED DOSE: Not applicable.
STORAGE: Store at room temperature away from light and moisture. Do not store in the bathroom. Keep all medications away from children and pets. Do not flush medications down the toilet or pour them into a drain unless instructed to do so. Properly discard this product when it is expired or no longer needed. Consult your pharmacist or local waste disposal company.
Prescribing Information
This product information is intended for United States residents only. Before prescribing, please refer to the patient information. You can view the document and also download it on your computer. You may also consider printing out a copy for yourself.
• View US Prescribing Information - PDF Version
To view the PDF document, you need Adobe Acrobat Reader which you can download for free here.