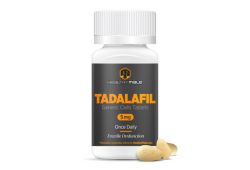 In-Stock
Tadalafil Teva 5mg Daily Use (Generic Cialis) be ready anytime for sexual activity with Tadalafil for Daily Use.
Manufacturer
Teva Pharmaceuticals
Quantity
Tadalafil 5mg Daily Use Generic Cialis
Tadalafil 5mg for Daily Use Generic Cialis now available. Users of Cialis take note – the prescription drug is now available as a Generic, Tadalafil. This drug provides the same long-lasting effects as Cialis (up to 36 hours) but will cost less because it no longer must be sold under the brand name Cialis.
Tadalafil is used to treat Erectile Dysfunction as needed
Most patients are recommended a daily dose of 5 mg, depending on their doctors advise. Medication must be taken prior to any anticipated sexual activity. Depending on the individual tolerance and efficacy of the drug, dosage may be increased as high as 20 mg or as low as 2.5 mg. The maximum recommended dosing is once a day for most patients.
Using Tadalafil as needed has been shown to improve erectile function compared against use of placebo for up to 36 hours following dosing. When advising patients on the correct use of tadalafil, consider this information to ensure optimal results.
The prescription generic Tadalafil for Daily Use is designed for oral administration and comes in almond-shaped tablets. Each pill contains dosing in the following amounts: 2.5mg or 5mg. Inactive ingredients consist of croscarmellose sodium, hydroxypropyl cellulose, hypromellose, iron oxide, lactose monohydrate, magnesium stearate, microcrystalline cellulose, sodium lauryl sulfate, talc, titanium dioxide, and triacetin.
How Tadalafil for Daily Use (Generic Cialis) works in the body:
The medication comes in the form of pills. Tadalafil (generic Cialis) increases and improves the blood flow throughout the body, specifically blood flow to the penis to enable users to achieve erection up to 36 hours after intake. Tadalafil will not work if there is no sexual stimulation of the penis – that is, it will not automatically create an erection. During sexual activity, however, Tadalafil can increase the hardness of your erection as well as the ease of achieving it. Here are some of the important features of Tadalafil:
Tadalafil for Daily Use (Generic Cialis)
Will remain active in your system for up to 36 hours, allowing a large window for sexual activity
Utilizes the same active ingredient as Cialis – Tadalafil citrate
Success rates for those who try Tadalafil are 62 % - the same rates as Cialis users
Tadalafil for Daily Use allows sexualy activity at any time
Can be purchased online without a prescription or a prior diagnosis
Dosing is simple – just take one pill orally daily
Treats erectile dysfunction as well as a condition benign prostatic hyperplasia
Please note that Tadalafil will not help improve the hardness of your penis if you currently do not suffer from erectile dysfunction.
This medication works in the same manner as Cialis, because it is the same ingredients and active medication as Cialis. It is the generic version, meaning it uses the same active ingredient, in the same potency, but is not sold under the brand name Cialis. This means that Tadalafil users enjoy the same benefits as Cialis, including:
Effectiveness
Duration
Prescription requirements
Side effects
Food Interactions
Tadalafil may be taken without the need to eat
Alcohol Interactions
Both alcohol and Tadalafil act as mild vasodilators. Tadalafil for Daily Use is a PDE5 inhibitor, so patients should be aware. When these are taken in combination, the effects of lowering the patients blood pressure may be increased. Physicians should inform users that consuming a substantial amount of alcohol at one sitting (defined as five or more drinks) and consume Tadalafil for Daily Use may experience side effects. These include potentially increased orthostatic symptoms - an increase in heart rate, decrease in standing blood pressure, dizziness, and headache.
Warning: Prolonged Erection
Some Tadalafil for Daily Use users have reported prolonged erections – greater than 4 hours, although these cases are rare. Reports of priapism, defined as painful erections lasting longer than 6 hours, have been rarely reported. If priapism is not treated promptly, it can result in damages to erectile tissue. Those who experience an erection lasting more than 4 hours, whether or not it is painful, should seek immediate medical attention.
Some patients with preexisting conditions should take caution when using Tadalafil for Daily Use. These include those who stand a greater risk of priapism (including conditions like sickle cell anemia, multiple myeloma, or leukemia) or those who have an anatomical deformation of the penis (such as angulation, cavernosal fibrosis, or Peyronies disease).
Cardiovascular Precautions
Due to the cardiac risk during sexual activity, physicians should evaluate the patients cardiovascular status, to ensure that they are healthy enough for sexual activity. Erectile dysfunction treatment, including Tadalafil, should not be used for men who have been advised to refrain from sexual activity. Those who experience cardiovascular symptoms upon starting sexual activity should cease immediately and seek immediate medical attention.
CONTRAINDICATIONS
4.1 Nitrates
Any patient consuming any form of organic nitrites are contraindicated, whether regularly or intermittently. In lab tests, tadalafil demonstrated an increase in the hypotensive effect of nitrates [see Clinical Pharmacology (12.2)].
4.2 Hypersensitivity Reactions
Those with serious hypersensitivity to tadalafil are contraindicated. Reactions include Stevens-Johnson syndrome and exfoliative dermatitis [see Adverse Reactions (6.2)].
4.3 Concomitant Guanylate Cyclase (GC) Stimulators
Patients who are using a GC stimulant, including a riociguat, should not use tadalafil. Those using PDE5 inhibitors may experience increasing hypotensive symptoms.
Tadalafil has been studied in 22 clinical trials, studying the efficacy and safety of the medication. These trial have lasted up to 24 weeks and included over 4000 patients. When taken as indicated, once per day, tadalafil demonstrated effectiveness in improving erectile dysfunction o=in men.
7 randomized, multicenter, double-blinded, placebo-controlled, parallel-arm design, primary efficacy and safety studies of Tadalafil were given to the general population. Two occurred in the United States, and 5 in centers outside of the country. ED patients with diabetes mellitus and those who developed ED status after a bilateral nerve-sparing radical prostatectomy were studied in a separate, additional efficacy and safety test.
In the initial 7 trials, tadalafil was taken according to the recommended doses, from 2.5 mg up to 20 mg, once per day. Participants were allowed to choose when to begin sexual activity in the time interval after their dosing. There were no restrictions on food or alcohol intake.
Study Results
Patients with diabetes mellitus were shown to have success taking tadalafil. Diabetics were included in all 7 initial tests of the ED population (N=235). They were also included in a separate study specifically measuring tadalafil in ED patients with both Type 1 and Type 2 diabetes (N=216). This was a randomized, placebo-controlled, double-blinded, parallel-arm design prospective trial. Tadalafil demonstrated clinically measurable and statistically indicated improvement in erectile function, using the EF domain measurement of the IIEF questionnaire and Questions 2 and 3 of the SEP diary.
Can I Get an Online Prescription for Tadalafil Dialy Use from HealthyMale.com?
Erectile Dysfunction is a difficult, sometimes even embarrassing ailment that can cost you your confidence. If you have impotence, you should consider acquiring Tadalafil Daily Use to alleviate symptoms. Generic Cialis from HealthyMale is authentic, thoroughly tested, and is manufactured within the United States. We are approved by the FDA as licensed distributors, with HealthyMale being HIPPA-compliant. We value security and privacy, continuously making efforts to improve our culture of transparency and ethics. Serving over 630,000 clients and customers since 1998, HealthyMale has positioned itself as the go-to online pharmacy for Tadalafil for Daily Use and other medical devices and medications.
Important Patient Information
TADALAFIL (ERECTILE DYSFUNCTION) - ORAL (tah-DA-la-fil) COMMON BRAND NAME(S): Cialis
IMPORTANT: HOW TO USE THIS INFORMATION: This is a summary and does NOT have all possible information about this product. This information does not assure that this product is safe, effective, or appropriate for you. This information is not individual medical advice and does not substitute for the advice of your health care professional. Always ask your health care professional for complete information about this product and your specific health needs.
USES: Tadalafil is used to treat male sexual function problems (impotence or erectile dysfunction-ED). In combination with sexual stimulation, tadalafil works by increasing blood flow to the penis to help a man get and keep an erection. Tadalafil is also used to treat the symptoms of an enlarged prostate (benign prostatic hyperplasia-BPH). It helps to relieve symptoms of BPH such as difficulty in beginning the flow of urine, weak stream, and the need to urinate frequently or urgently (including during the middle of the night). Tadalafil is thought to work by relaxing the smooth muscle in the prostate and bladder. This drug does not protect against sexually transmitted diseases (such as HIV, hepatitis B, gonorrhea, syphilis). Practice "safe sex" such as using latex condoms. Consult your doctor or pharmacist for more details.
HOW TO USE: Read the Patient Information Leaflet provided by your pharmacist before you start taking tadalafil and each time you get a refill. If you have any questions, ask your doctor or pharmacist. Take this medication by mouth, with or without food, as directed by your doctor. Do not take tadalafil more often than once daily. The manufacturer directs to swallow this medication whole. However, many similar drugs (immediate-release tablets) can be split/crushed. Follow your doctor's directions on how to take this medication. The dosage is based on your medical condition, response to treatment, and other medications you may be taking. Be sure to tell your doctor and pharmacist about all the products you use (including prescription drugs, nonprescription drugs, and herbal products). To treat the symptoms of BPH, take this medication as directed by your doctor, usually once a day. If you are also taking finasteride with this medication to treat symptoms of BPH, talk with your doctor about how long you should continue taking this medication. To treat erectile dysfunction-ED, there are 2 ways that tadalafil may be prescribed. Your doctor will determine which is the best way for you to take tadalafil. Follow your doctor's directions exactly since your dosage depends on how you are taking it. The first way is to take it as needed, usually at least 30 minutes before sexual activity. Tadalafil's effect on sexual ability may last up to 36 hours. The second way to treat ED is to take tadalafil regularly, once a day every day. If you take it this way, you may attempt sexual activity at any time between your doses. If you are taking tadalafil to treat both ED and BPH, take it as directed by your doctor, usually once a day. You may attempt sexual activity at any time between your doses. If you are taking tadalafil once daily for BPH, or for ED, or for both, take it regularly to get the most benefit from it. To help you remember, take it at the same time each day. Tell your doctor if your condition does not improve or if it worsens.
SIDE EFFECTS: Headache, stomach upset, back pain, muscle pain, stuffy nose, flushing, or dizziness may occur. If any of these effects persist or worsen, tell your doctor or pharmacist promptly. To reduce the risk of dizziness and lightheadedness, get up slowly when rising from a sitting or lying position. Remember that this medication has been prescribed because your doctor has judged that the benefit to you is greater than the risk of side effects. Many people using this medication do not have serious side effects. Sexual activity may put extra strain on your heart, especially if you have heart problems. If you have heart problems and experience any of these serious side effects while having sex, stop and get medical help right away: severe dizziness, fainting, chest/jaw/left arm pain, nausea. Rarely, sudden decreased vision, including permanent blindness, in one or both eyes (NAION) may occur. If this serious problem occurs, stop taking tadalafil and get medical help right away. You have a slightly greater chance of developing NAION if you have heart disease, diabetes, high cholesterol, certain other eye problems ("crowded disk"), high blood pressure, if you are over 50, or if you smoke. Rarely, a sudden decrease or loss of hearing, sometimes with ringing in the ears and dizziness, may occur. Stop taking tadalafil and get medical help right away if these effects occur. In the rare event you have a painful or prolonged erection lasting 4 or more hours, stop using this drug and get medical help right away, or permanent problems could occur. A very serious allergic reaction to this drug is rare. However, get medical help right away if you notice any symptoms of a serious allergic reaction, including: rash, itching/swelling (especially of the face/tongue/throat), severe dizziness, trouble breathing. This is not a complete list of possible side effects. If you notice other effects not listed above, contact your doctor or pharmacist. In the US - Call your doctor for medical advice about side effects. You may report side effects to FDA at 1-800-FDA-1088 or at www.fda.gov/medwatch. In Canada - Call your doctor for medical advice about side effects. You may report side effects to Health Canada at 1-866-234-2345.
PRECAUTIONS: Before taking tadalafil, tell your doctor or pharmacist if you are allergic to it; or if you have any other allergies. This product may contain inactive ingredients, which can cause allergic reactions or other problems. Talk to your pharmacist for more details. Before using this medication, tell your doctor or pharmacist your medical history, especially of: heart problems (such as heart attack or life-threatening irregular heartbeat in the past 6 months, chest pain/angina, heart failure), stroke in the past 6 months, kidney disease, liver disease, high or low blood pressure, dehydration, penis conditions (such as angulation, fibrosis/scarring, Peyronie's disease), history of painful/prolonged erection (priapism), conditions that may increase the risk of priapism (such as sickle cell anemia, leukemia, multiple myeloma), eye problems (such as retinitis pigmentosa, sudden decreased vision, NAION), bleeding disorders, active stomach ulcers. This drug may make you dizzy. Alcohol or marijuana (cannabis) can make you more dizzy. Do not drive, use machinery, or do anything that needs alertness until you can do it safely. Limit alcoholic beverages. Talk to your doctor if you are using marijuana (cannabis). Before having surgery, tell your doctor or dentist about all the products you use (including prescription drugs, nonprescription drugs, and herbal products). This brand of the drug is not usually used in women. During pregnancy, tadalafil should be used only when clearly needed. Discuss the risks and benefits with your doctor. It is unknown if this medication passes into breast milk. Consult your doctor before breast-feeding.
DRUG INTERACTIONS: Drug interactions may change how your medications work or increase your risk for serious side effects. This document does not contain all possible drug interactions. Keep a list of all the products you use (including prescription/nonprescription drugs and herbal products) and share it with your doctor and pharmacist. Do not start, stop, or change the dosage of any medicines without your doctor's approval. A product that may interact with this drug is: riociguat. Tadalafil can cause a serious drop in your blood pressure when used with nitrates, which can lead to dizziness, fainting, and rarely heart attack or stroke. Do not use any of the following with tadalafil or within 48 hours of your last dose of tadalafil: certain drugs used to treat chest pain/angina (nitrates such as nitroglycerin, isosorbide), recreational drugs called "poppers" containing amyl or butyl nitrite. If you are also taking an alpha blocker medication (such as doxazosin, tamsulosin) to treat an enlarged prostate/BPH or high blood pressure, your blood pressure may get too low which can lead to dizziness or fainting. Your doctor may start treatment with a lower dose of tadalafil or adjust your alpha blocker medication to minimize your risk of low blood pressure. Other medications can affect the removal of tadalafil from your body, which may affect how tadalafil works. Examples include azole antifungals (such as itraconazole, ketoconazole), macrolide antibiotics (such as clarithromycin, erythromycin), HIV protease inhibitors (such as fosamprenavir, ritonavir), rifampin, among others. Do not take this medication with any other product that contains tadalafil or other similar medications used to treat erectile dysfunction-ED or pulmonary hypertension (such as sildenafil, vardenafil).
OVERDOSE: If someone has overdosed and has serious symptoms such as passing out or trouble breathing, call 911. Otherwise, call a poison control center right away. US residents can call their local poison control center at 1-800-222-1222. Canada residents can call a provincial poison control center.
MISSED DOSE: If you are taking this medication on a regular schedule and you miss a dose, take it as soon as you remember. If it is near the time of the next dose, skip the missed dose. Take your next dose at the regular time. Do not double the dose to catch up.
STORAGE: Store at room temperature away from light and moisture. Do not store in the bathroom. Keep all medications away from children and pets. Do not flush medications down the toilet or pour them into a drain unless instructed to do so. Properly discard this product when it is expired or no longer needed. Consult your pharmacist or local waste disposal company.
Prescribing Information
This product information is intended for United States residents only. Before prescribing, please refer to the patient information. You can view the document and also download it on your computer. You may also consider printing out a copy for yourself.
• View US Prescribing Information - PDF Version
To view the PDF document, you need Adobe Acrobat Reader which you can download for free here.