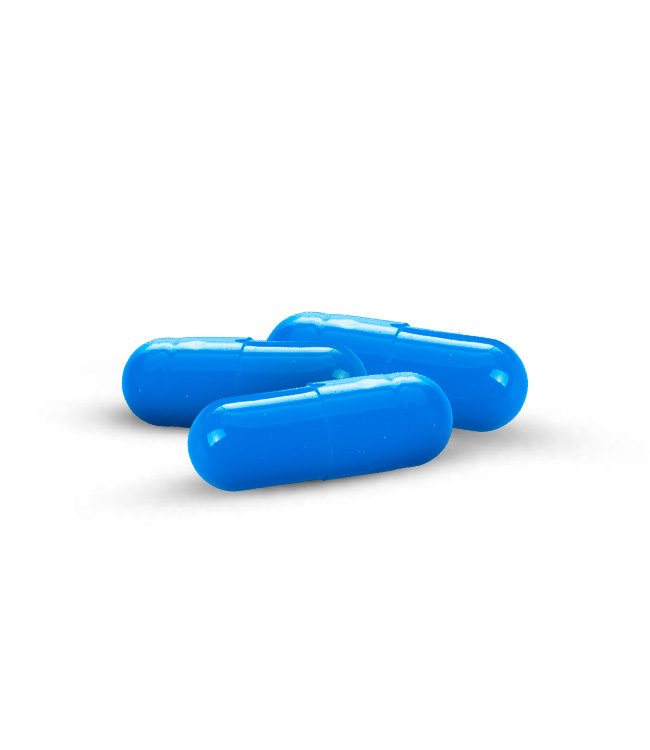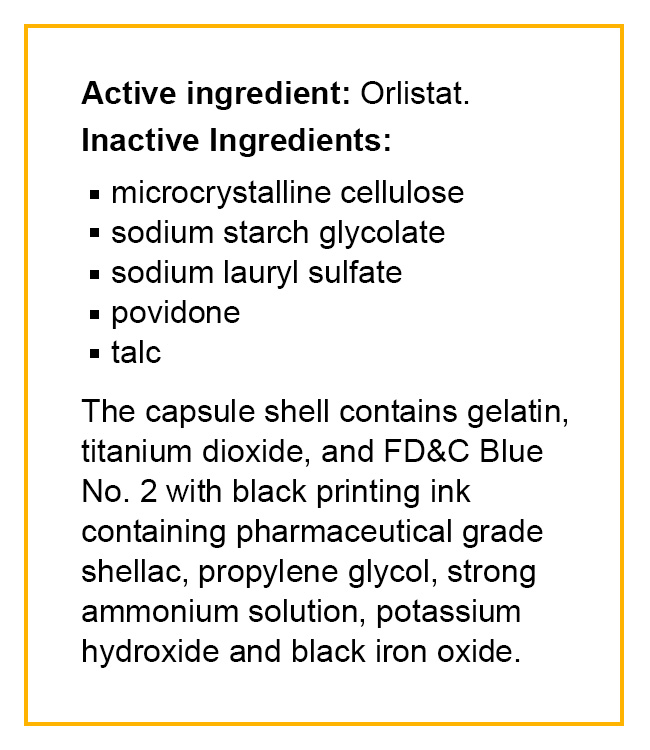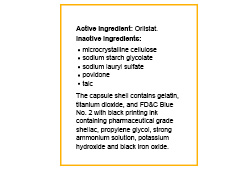 In-Stock
Xenical prescription weight loss medication blocks up to 33% of the fat in the food you eat. Adding Xenical to a weight loss program can help you lose significantly more weight by approximately 13.5lbs more on average.
Manufacturer
Roche Laboratories Inc.
Quantity
Xenical Fat Blocker, Weight Loss, Diet Prescription Medication
Xenical is a prescription medication that helps the body eliminate fat from food. Studies show that Xenical blocks up to 33% of this fat from being absorbed, which leads to healthy weight loss. Your doctor can tell you more about a weight-loss program that includes Xenical.
Why Take Xenical?
Xenical can help you lose weight—and that helps prevent several medical conditions caused by obesity. Heart disease, type 2 diabetes, sleep apnea, high blood pressure, and certain cancers are linked to obesity. When you lose weight—even 10% of your body weight—you cut your risk of these diseases. You gain back years of good living.
And, you make living a whole lot easier—when you're not carrying all that extra weight. Imagine being able to walk a block or two, or a flight of stairs without huffing and puffing. When you start losing weight, you free your body to move.
Obesity affects your sex life, too. Many obese people suffer from sleep apnea—a breathing disorder that hampers your ability to sleep. Men with erectile dysfunction are much more likely to suffer from sleep apnea. But, by losing weight, you cut your sleep apnea risk. And, it stands to reason that you help prevent any erection problems, too. Losing weight is simply better for your overall health.
Xenical Study
In clinical studies, people taking Xenical for a one-year period lost more weight than people who didn't take Xenical. But, the Xenical group also followed a low-calorie diet—and they got moderate exercise.
In one four-year study, those who took Xenical—and made lifestyle changes—lost 5.8 kg (12.1 pounds), compared to the Xenical-only group, who lost 3 kg (6.9 pounds). Also, there was a more dramatic dip in diabetes risk among the Xenical-plus-lifestyle group, compared to the Xenical-only group.
How Does Xenical Work?
Xenical works by preventing fat—from the food you eat—from breaking down in your body. This undigested fat won't be absorbed by the body, so it is eliminated in a bowel movement. With Xenical, up to one-third of the fat you eat is eliminated this way.
How to take Xenical:
Take one 120mg capsule with water during every main meal in which food contains fat—or take Xenical at least one hour after you've eaten. It's most effective to take Xenical three times every day with well-balanced nutritious meals.
Keep the fat calories under control in each meal—with no more than 30 percent of calories from fat. Divide your daily intake of essential nutrients—fat, carbohydrates and protein—among the day's three main meals. If you miss a meal—or eat one that doesn't contain fat—you may skip your dose of Xenical.
It's important that you eat plenty of fresh fruits and vegetables, lean protein, and whole grains like whole wheat bread or brown rice. It's not rabbit food—it's healthy food. When you're eating out, choose carefully. Even at the fast food joints—you can always find something that's healthier than burger-and-fries. Stop by the grocery store, and take a shopping list with you.
Decide now—your sex life is worth it, right?
Xenical Side Effects:
Common side-effects may include: abdominal discomfort, diarrhea, oily discharge, gas with fecal discharge, fatty or oily stools, fecal urgency, or incontinence. See a doctor immediate if you experience any severe side effects: severe or persistent stomach pain an allergic reaction indicated by rash, hives, itching difficulty breathing chest tightness or swelling of the mouth, lips, face or tongue.
Important Patient Information
ORLISTAT - ORAL (OR-li-stat) COMMON BRAND NAME(S): Alli, Xenical
IMPORTANT: HOW TO USE THIS INFORMATION: This is a summary and does NOT have all possible information about this product. This information does not assure that this product is safe, effective, or appropriate for you. This information is not individual medical advice and does not substitute for the advice of your health care professional. Always ask your health care professional for complete information about this product and your specific health needs.
USES: This medication is used with a doctor-approved exercise, behavior change, and reduced-calorie diet program to help you lose weight. It is used by certain overweight people, such as those who are obese or have weight-related medical problems. Taking orlistat can also help keep you from gaining back weight you have lost. Losing weight and keeping it off can lessen the many health risks that come with obesity, including heart disease, diabetes, high blood pressure, and a shorter life. Dietary fats need to be broken down into smaller pieces before the body can absorb them. Orlistat works by blocking the enzyme that breaks down fats in your diet. This undigested fat then passes out of your body in your bowel movement. Orlistat does not block the absorption of calories from sugar and other non-fat foods, so you still need to restrict your total intake of calories.
HOW TO USE: If you are taking the over-the-counter product to self-treat, read all directions on the product package before taking this medication. If your doctor has prescribed this medication, read the Patient Information Leaflet if available from your pharmacist before you start taking orlistat and each time you get a refill. Take this medication as directed by your doctor, by mouth with liquid sometime during each meal that contains fat or within 1 hour after the meal, usually 3 times daily. If you miss a meal or your meal contains no fat, skip that dose of the medication. To decrease the chance of unpleasant side effects, it is very important that no more than 30% of the calories in your diet come from fat. Your daily intake of fat, protein, and carbohydrates should be evenly spread over 3 main meals. Do not increase your dose or use this drug more often or for longer than prescribed. Your condition will not improve any faster, and your risk of side effects will increase. Because this drug can interfere with the absorption of certain vitamins (fat-soluble vitamins including A, D, E, K), a daily multivitamin supplement containing these nutrients is recommended. Take the multivitamin at least 2 hours before or 2 hours after taking orlistat (such as at bedtime). If you take cyclosporine, take it at least 3 hours before or after orlistat to make sure the full dose of cyclosporine is absorbed into your bloodstream. If you take levothyroxine, take it at least 4 hours before or after orlistat. You should see some weight loss within 2 weeks after you start orlistat. Tell your doctor if your condition does not improve or if it worsens.
SIDE EFFECTS: Changes in your bowel function often occur because of the unabsorbed fat. Fatty/oily stool, oily spotting, intestinal gas with discharge, a feeling of needing to have a bowel movement right away, increased number of bowel movements, or poor bowel control may occur. These side effects may get worse if you eat more fat than you should. If these effects last or get worse, notify your doctor promptly. If your doctor has directed you to use this medication, remember that your doctor has judged that the benefit to you is greater than the risk of side effects. Many people using this medication do not have serious side effects. Stop taking this medication and tell your doctor right away if any of these rare but serious side effects occur: symptoms of liver disease (such as nausea/vomiting that doesn't stop, severe stomach/abdominal pain, dark urine, yellowing eyes/skin), symptoms of kidney stones (such as back pain, pain when urinating, pink/bloody urine). A very serious allergic reaction to this drug is rare. However, get medical help right away if you notice any symptoms of a serious allergic reaction, including: rash, itching/swelling (especially of the face/tongue/throat), severe dizziness, trouble breathing. This is not a complete list of possible side effects. If you notice other effects not listed above, contact your doctor or pharmacist. In the US - Call your doctor for medical advice about side effects. You may report side effects to FDA at 1-800-FDA-1088 or at www.fda.gov/medwatch. In Canada - Call your doctor for medical advice about side effects. You may report side effects to Health Canada at 1-866-234-2345.
PRECAUTIONS: Before taking orlistat, tell your doctor or pharmacist if you are allergic to it; or if you have any other allergies. This product may contain inactive ingredients, which can cause allergic reactions or other problems. Talk to your pharmacist for more details. Before using this medication, tell your doctor or pharmacist your medical history, especially of: a certain digestive problem (chronic malabsorption syndrome), a certain gall bladder problem (cholestasis), underactive thyroid (hypothyroidism), kidney stones/problems (such as calcium oxalate kidney stones, hyperoxaluria), certain eating disorders (anorexia nervosa/bulimia), HIV infection, seizures. Before having surgery, tell your doctor or dentist about all the products you use (including prescription drugs, nonprescription drugs, and herbal products). If you are diabetic, weight loss may improve your blood sugar control. Be sure to check your blood sugar regularly and tell your doctor the results. Your doctor may need to adjust your diabetes medication, exercise program, or diet. This medication must not be used during pregnancy. Weight loss offers no potential benefit to a pregnant woman and may harm an unborn baby. If you become pregnant or think you may be pregnant, tell your doctor right away. It is unknown if this drug passes into breast milk. Consult your doctor before breast-feeding.
DRUG INTERACTIONS: See also How to Use section. Drug interactions may change how your medications work or increase your risk for serious side effects. This document does not contain all possible drug interactions. Keep a list of all the products you use (including prescription/nonprescription drugs and herbal products) and share it with your doctor and pharmacist. Do not start, stop, or change the dosage of any medicines without your doctor's approval. Some products that may interact with this drug include: "blood thinners" (such as warfarin), HIV medications (such as atazanavir, efavirenz, emtricitabine, lopinavir, ritonavir, tenofovir). If you are taking medications to treat seizures, orlistat may cause these drugs to not work as well. Stop taking orlistat and tell your doctor right away if your seizures are happening more often or are getting worse.
OVERDOSE: If someone has overdosed and has serious symptoms such as passing out or trouble breathing, call 911. Otherwise, call a poison control center right away. US residents can call their local poison control center at 1-800-222-1222. Canada residents can call a provincial poison control center.
MISSED DOSE: If you miss a dose, take it as soon as you remember unless it has been more than 1-2 hours since your meal. In that case, skip the missed dose since most of the fat from your meal will already have been absorbed and the medication will not work. Do not double the dose to catch up.
STORAGE: Store at room temperature away from light and moisture. Do not store in the bathroom. Keep all medications away from children and pets. Do not flush medications down the toilet or pour them into a drain unless instructed to do so. Properly discard this product when it is expired or no longer needed. Consult your pharmacist or local waste disposal company for more details.
Prescribing Information
This product information is intended for United States residents only. Before prescribing, please refer to the patient information. You can view the document and also download it on your computer. You may also consider printing out a copy for yourself.
• View US Prescribing Information - PDF Version
To view the PDF document, you need Adobe Acrobat Reader which you can download for free here.