Male Supplements
Get Cutting Edge Herbal Supplements for Men
Men 30 to 90+ Do You Want to Obtain Optimal Health? Now You Can Get the Highest Strength and Quality Supplements Online With No Prescription Needed. Treatments for Weight Loss, Libido, Energy, Muscle, Vision, Prostate, Joint and More Shipped Direct to You.
Coffee and Erectile Dysfunction Improves Blood Flow Works Like Viagra
Coffee is one of the more popular drinks in the world. Itís bought and traded around the globe and itís been enjoyed since the 15th century. There are many ways it can be prepared too and each one has itís own benefits.
A French Press will give you the most control out of your brew while giving you the best flavor.
Cold brew coffee is steeped at room temperature or in a refrigerator and it will give the smoothest flavor. Also, it delivers the least acidic brew possible, which is better for your teeth and stomach, giving you improved control over acid reflux.
Coffee can be prepared keto-style too, where the added fat slows down the release of caffeine, giving you more energy over a longer period of time. The added coconut oil aids in fat loss while helping raise testosterone levels.
Weíve created videos for each of the following that gives an explanation and directions for each type of brew.
In addition to these benefits, coffee consumption has also been researched to help fight against type 2 Diabetes, lower instances of Parkinsonís Disease and Liver Cancer. Research has also shown for it to lower the risk of heart disease.
Clinical studies have been done that show men who consume 85 to 170 milligrams of caffeine a day, which is about 2-3 cups, were 42 percent less likely to report having erectile dysfunction.
The caffeine relaxes certain arteries, improving the blood flow while relaxing and dilating your blood vessels in the same way that Viagra works.
Watch the HealthyMale Video Coffee and Erectile Dysfunction Improves Blood Flow Works Like Viagra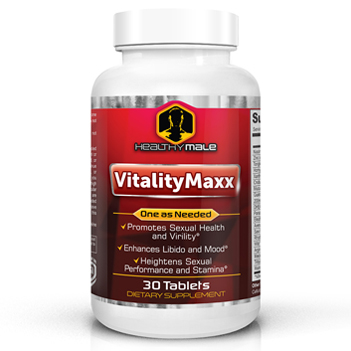 Supports Sexual Health, Libido and Stamina Try VitalityMaxx
Because VitalityMaxx Performance Enhancement includes the largest concentration attainable from over 10 natural herbs, including epimedium, or horny goat weed, it is a completely safe solution, without any side effects. No hormones, preservatives, artificial ingredients, fillers, binders, jitters, antibiotics, gluten, or sugar included.
Get 25% Off Your Order Automatically by Clicking the Buy Now Button!
---
About the Author:
Mark Delano is the Managing Editor and handles all day to day operations for HealthyMale.com. He is a personal fitness trainer, nutritionist and avid mountain biker who also enjoys exploring the trails of Arizona. Besides his everyday duties at HealthyMale, Mark is also a guest columnist for several blogs related to men's health.
Click to see more articles from Mark