Male Supplements
Get Cutting Edge Herbal Supplements for Men
Men 30 to 90+ Do You Want to Obtain Optimal Health? Now You Can Get the Highest Strength and Quality Supplements Online With No Prescription Needed. Treatments for Weight Loss, Libido, Energy, Muscle, Vision, Prostate, Joint and More Shipped Direct to You.
Exercise can HELP ED
Understanding your experience with ED is the first step to fixing it. If youíre able to maintain an erection 75% of the time, chances are your issue is situational, not biological.
But no matter what, proper exercise will have a positive effect on ED. Blood flow problems caused by diabetes, obesity, high cholesterol, and vascular disease are often associated with erectile dysfunction. Adding aerobic exercise to your routine can improve your overall health. According to a Harvard study, 30 minutes of walking a day was linked to a 41% drop in risk for Erectile Dysfunction.
A study done in the United Kingdom found that pelvic exercises helped 40 percent of men with ED regain normal function. Doing pelvic floor exercises improves the strength of your pelvic muscles. These are also called kegelexercises; they strengthen the bulbocavernosus muscle responsible for sexual health and can enhance erection rigidity while helping keep blood from leaving the penis. Kegel exercises are also helpful in dealing with premature ejaculation.
To do a Kegel exercise, locate the pelvic floor muscle, itís the one used to stop urinating. Once that muscle is located, squeeze it and hold it for five seconds, then relax. Repeat this 10 times two or three times a day. It can be done while sitting or standing.
Proper exercise can increase testosterone levels in men; specifically, ones that work the lower body like squats and hip exercises work best for erectile dysfunction.
As always, the best way to fight Erectile Dysfunction is with a healthy, active, well-rounded lifestyle, visit HealthyMale.com where you can learn more.
Watch the HealthyMale Video How Exercise can help with ERECTILE DYSFUNCTION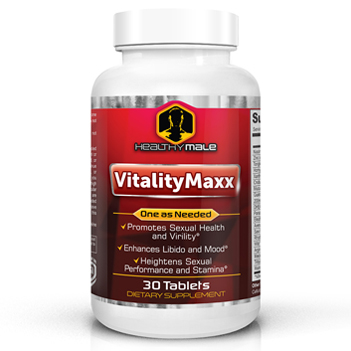 Supports Sexual Health, Libido and Stamina Try VitalityMaxx
Because VitalityMaxx Performance Enhancement includes the largest concentration attainable from over 10 natural herbs, including epimedium, or horny goat weed, it is a completely safe solution, without any side effects. No hormones, preservatives, artificial ingredients, fillers, binders, jitters, antibiotics, gluten, or sugar included.
Get 25% Off Your Order Automatically by Clicking the Buy Now Button!
---
About the Author:
Mark Delano is the Managing Editor and handles all day to day operations for HealthyMale.com. He is a personal fitness trainer, nutritionist and avid mountain biker who also enjoys exploring the trails of Arizona. Besides his everyday duties at HealthyMale, Mark is also a guest columnist for several blogs related to men's health.
Click to see more articles from Mark