Male Supplements
Get Cutting Edge Herbal Supplements for Men
Men 30 to 90+ Do You Want to Obtain Optimal Health? Now You Can Get the Highest Strength and Quality Supplements Online With No Prescription Needed. Treatments for Weight Loss, Libido, Energy, Muscle, Vision, Prostate, Joint and More Shipped Direct to You.
Horny Goat Weed - The Herbal ED Alternative to Viagra
Horny Goat Weed is an herb that has been used in Traditional Chinese Medicine (TCM) for many centuries. The Chinese name for Horny Goat Weed is Yin Yang Huo, or Xian Ling Pi. It is often taken as a supplement for men to treat erectile dysfunction (ED).
Treat Erectile Dysfunction, Low Libido and Fatigue
It is also used for low libido, pain, and even fatigue. Horny Goat Weed grows in southern China and in bordering Asian countries and nearby countries in Europe. Horny Goat Weed is not found in any whole food sources.
The active compound in Horny Goat Weed is Epimedium, a flowering plant species also known by other names like barrenwort and bishop's hat, among others. There are nearly 60 species of Epimedium, each with different potencies. Only professionals with specific training in the herb and its functions should determine dosage to address specific health conditions. According to Chinese legend, this weed plant was eaten by goats, who behaved afterwards as if they had been given an aphrodisiac. Epimedium has been shown to block an enzyme in the body that restricts blood flow, leading to ED.
Horny Goat Weed Treats Oseoporosis, High Blood Pressure and Heart Disease
Horny Goat Weed contains an active ingredient known as icariin. This substance works to relax smooth muscle tissue which assists in creating reduced stress in the body, and a resulting decreased state of disease. Horny Goat Weed has been used to treat osteoporosis, high blood pressure, and heart disease, joint pain, memory impairment, and other health problems. Some individuals find it to be an effective pain reliever and an important herb to help manage their health conditions. It is believed that Horny Goat Weed may work better or at least as well as prescription medications, while having fewer side effects.
Horny Goat Weed can be found where other dietary supplements are sold. It is most commonly available in capsule form. While the plant leaves are edible, they are very bitter. Some health and specialty stores sell Horny Goat Weed preparations in the form of medicinal teas. For tea, the herb leaves have been properly cooked and prepared to remove the bitterness of the leaves.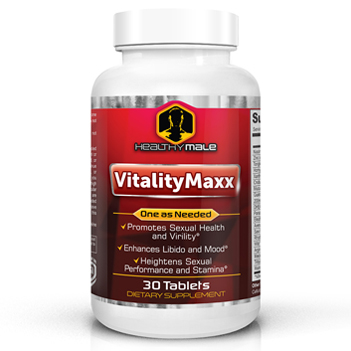 Supports Sexual Health, Libido and Stamina Try VitalityMaxx
Because VitalityMaxx Performance Enhancement includes the largest concentration attainable from over 10 natural herbs, including epimedium, or horny goat weed, it is a completely safe solution, without any side effects. No hormones, preservatives, artificial ingredients, fillers, binders, jitters, antibiotics, gluten, or sugar included.
Get 25% Off Your Order Automatically by Clicking the Buy Now Button!
Horny Goat Weed may cause dry mouth or upset stomach. It is also contraindicated for people with low blood pressure. Some other side effects have also been reported. As with other medications or supplements, Horny Goat Weed may negatively interact with other medications or supplements. Talk with your doctor before taking Horny Goat Weed to discuss if it may be right for you.
---
About the Author:
Mark Delano is the Managing Editor and handles all day to day operations for HealthyMale.com. He is a personal fitness trainer, nutritionist and avid mountain biker who also enjoys exploring the trails of Arizona. Besides his everyday duties at HealthyMale, Mark is also a guest columnist for several blogs related to men's health.
Click to see more articles from Mark