Male Supplements
Get Cutting Edge Herbal Supplements for Men
Men 30 to 90+ Do You Want to Obtain Optimal Health? Now You Can Get the Highest Strength and Quality Supplements Online With No Prescription Needed. Treatments for Weight Loss, Libido, Energy, Muscle, Vision, Prostate, Joint and More Shipped Direct to You.
How Meditation can help with Erectile Dysfunction
Meditation is about establishing mindfulness; the psychological process of bringing your attention to experiences happening in the present moment while developing moment to moment non-judgmental awareness. Itís also a scientifically proven method that can help control your heart rate, slow down your respiratory rate, lower blood pressure and decrease oxygen consumption.
Meditation can assist with Erectile Dysfunction caused by stress levels or anticipatory anxiety. Meditation can help re-program the mind so that anxiety, guilt or fear associated with sexual performance is replaced with positive patterns of thoughts and feelings.
Meditation is a practice where an individual focuses their mind to achieve a state of mental clarity and emotionally calmness. Meditation can be used to reduce stress, anxiety, depression and pain.
To begin meditation, find a quiet area free of distractions and sit in a comfortable seated position. Sit cross-legged with your torso balanced and aligned centered above your hips. Relax your head and neck; allow your jaw to fall and the back of your neck to lengthen. Shoulders should move backwards while lifting your ribcage. Relax your arms while resting your hands in your lap.
Take long slow breaths while trying to block out worries and distracting thoughts. Count to five as you slowly inhale, then count to five as you slowly exhale. When breathing focus on filling your abdomen with air then let is deflate like a balloon. Breathing in through your nose and out of your mouth.
Continue with this deep rhythmic breathing for about 3 minutes, this will drop your respiratory and heart rate. Now shift your focus to your groin and imagine experiencing feelings of warm sensations, refrain from using any pelvic muscles during this and stay completely relaxed. Continue this thought and breathing exercise for 10-15 minutes twice a day. A study was done at New York University that reported men who did these exercises reported increase feelings of inner peace in their lives along with genital sensation and a return of normal erections.
As always, the best way to fight Erectile Dysfunction is with a healthy, active, well-rounded lifestyle, visit HealthyMale.com where you can learn more.
Watch the HealthyMale Video How Meditation can help with ERECTILE DYSFUNCTION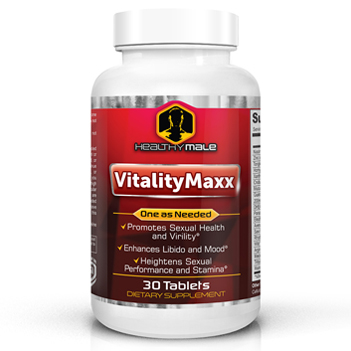 Supports Sexual Health, Libido and Stamina Try VitalityMaxx
Because VitalityMaxx Performance Enhancement includes the largest concentration attainable from over 10 natural herbs, including epimedium, or horny goat weed, it is a completely safe solution, without any side effects. No hormones, preservatives, artificial ingredients, fillers, binders, jitters, antibiotics, gluten, or sugar included.
Get 25% Off Your Order Automatically by Clicking the Buy Now Button!
---
About the Author:
Mark Delano is the Managing Editor and handles all day to day operations for HealthyMale.com. He is a personal fitness trainer, nutritionist and avid mountain biker who also enjoys exploring the trails of Arizona. Besides his everyday duties at HealthyMale, Mark is also a guest columnist for several blogs related to men's health.
Click to see more articles from Mark