Male Supplements
Get Cutting Edge Herbal Supplements for Men
Men 30 to 90+ Do You Want to Obtain Optimal Health? Now You Can Get the Highest Strength and Quality Supplements Online With No Prescription Needed. Treatments for Weight Loss, Libido, Energy, Muscle, Vision, Prostate, Joint and More Shipped Direct to You.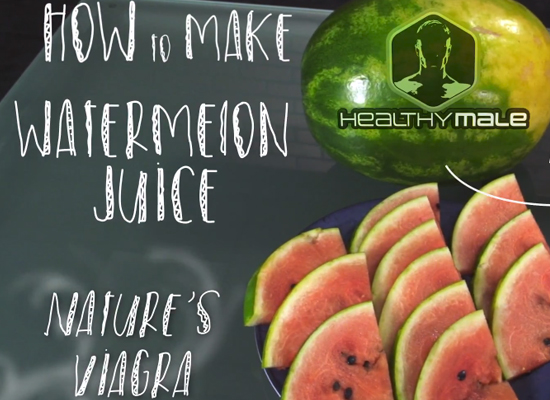 Nature's Viagra Secret Watermelon Juice Recipe
Erectile Dysfunction is a condition that affects almost 40% of men over the age of 40. While frustrating to deal with, there are ways to help.
Healthy eating and staying active is the best way to fight ED, along with medication such as Viagra or Cialis.
But did you know there are herbal remedies that mimic the effect of medication as well?
Homemade watermelon juice, aside from being healthy, acts as an herbal cure for erectile dysfunction.
Nutritionally, watermelons are loaded with vitamin C and A, theyíre also heavy with Lycopene a natural antioxidant, which is known for fighting heart disease and is good for the prostate.
They also contain vitamin B6, which helps fight anxiety.
Watermelons are heavily concentrated with an Amino Acid called Citrulline, once consumed itís converted into the amino acid Arginine that relaxes and dilates blood vessels in the same way that Viagra works.
Now the great thing about this juice recipe is itís simple and uses the natural characteristics of the watermelon to promote healthy circulation.
All you need is a Juicer, a ripe watermelon (*with seeds!) and some ice. First cut open the watermelon and cube out the center red portion, a melon baller will work too.
Now fill up the juicer and run it until itís completely liquid.
Finally, pour it into a glass of ice if you would like it chilled.
You can also make extra, watermelon juice will store in the refrigerator for up to three days and 30-60 days stored in a freezer.
The best way to fight Erectile Dysfunction is with a healthy, active, well-rounded lifestyle.
Watch the HealthyMale Video and Learn the Secrets to Making Natural Viagra Watermelon Juice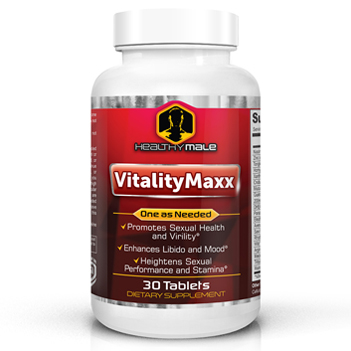 Supports Sexual Health, Libido and Stamina Try VitalityMaxx
Because VitalityMaxx Performance Enhancement includes the largest concentration attainable from over 10 natural herbs, including epimedium, or horny goat weed, it is a completely safe solution, without any side effects. No hormones, preservatives, artificial ingredients, fillers, binders, jitters, antibiotics, gluten, or sugar included.
Get 25% Off Your Order Automatically by Clicking the Buy Now Button!
---
About the Author:
Mark Delano is the Managing Editor and handles all day to day operations for HealthyMale.com. He is a personal fitness trainer, nutritionist and avid mountain biker who also enjoys exploring the trails of Arizona. Besides his everyday duties at HealthyMale, Mark is also a guest columnist for several blogs related to men's health.
Click to see more articles from Mark